The Arms of Comfort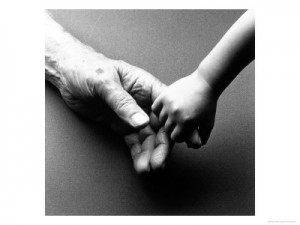 We mourn the loss of 20 children's lives and the 6 adults at the hand of a crazed gunman a week ago. America recoiled and a small community staggers. A parent's unimaginable nightmare. There are presents under the Christmas tree that will never be opened. A horrific introduction to a new meaning of cruel.
Parents will hold dear the last moments they had with their child. I'm sure that they will recall that last hug, last words shared and the last time they kissed their children's cheeks. Those last moments…priceless.
When Jesus was with His disciples for the last time, His last remaining moments, His last words He would speak promised to be priceless. He would choose them carefully. We find Jesus' last words in Acts 1:8-9 where Jesus instructs His disciples to receive the Holy Spirit. One of the ways Jesus describes the Holy Spirit is by referring to Him as the comforter. Of all Jesus could have said, these were His parting words. There is none who can comfort better than the presence of the precious Holy Spirit.
With all that Christmas stands for, the families in Connecticut need the comfort of one who by experience understands their pain of intolerable loss. He too lost His son, the one who was born in that stable. This same personal God, acquainted with grief can best bring comfort to those in unbearable grief.
We remember to pray for those families and there loss this Christmas. Only God can bring comfort when comfort seems impossible. This is what God does best for He is the God of the impossible. We are with you.
I know that for many of you it has not been the easiest year. There have been many challenges to face this past year and much grief that our nation and maybe you have even felt personally. You may have not experienced a massive tragedy like in Connecticut, but maybe you have experienced your own personal loss or disappointment. As we close this year and prepare to begin another, I would like to encourage you to look back at this year and see where you can find the hand of God in your life. Consider the many blessings that God brought into your life and be grateful for the growth that comes from challenges.  Take time to thank God for your loved ones that you get to embrace this Christmas and let go of some of those things that did not come through this year. May you have a divine moment where you can remember all the times that God held you this past year and may it bring you hope and encouragement for the year to come.
While many of us have time with our families this holiday season, commit to affirm your children this year–whether they are 10 or 55.  Say those words that you want to be ringing long after they are said.  We never know when they will be the last.  Perhaps, someone is thinking, "If only I had said…"  Don't let those be your thoughts.  Each of us need value and words have so much impact.  Value, love, significance and joy are some words that easily come to mind with our children.  Tell them how you feel.  Have a Merry Christmas!
Herb Marks and the Sought Out Global team.