Say 'yes' to what's next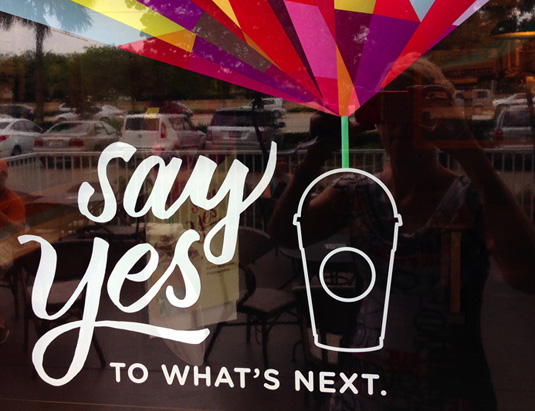 Recently I came across an excerpt of John Wesley's personal journal that both moved and challenged me.
May 5th:
A.M: Preached in St. Ann's; was asked not to come back.
P.M: Preached at St. John's; deacons said, 'Get out and stay out.'
May 12th:
A.M: Preached at St. Andrew's; elders called a special meeting and said not to return.
P.M: Preached on the street and was run off.
May 26th:
A.M: Preached in a field; got chased by a bull that was set loose.
June 2nd:
A.M: Preached at the edge of town; police moved me.
P.M: Preached in a pasture and 10,000 people came!
After weeks of rejection and closed doors, John Wesley refused to allow the call of God on his life to be detoured by rejection. You and I read the above words and sometimes forget how difficult it would have been to walk out what he did. We know how the story ends. We know that John Wesley had an incredible life of catalyst influence, but he didn't know 10,000 were going to show up in that field the evening of June 2nd. All he knew was he had to keep saying YES to the call of God on His life.
Along the road of life we all encounter failure, rejection and closed doors. I believe our success in life often relies on how we respond to those difficult moments and closed doors. What I love about John Wesley is that no matter what, he said YES. He knew God called him to preach the gospel and preach the gospel is what he would do no matter who was or was not listening. He preached in churches, on street corners and in fields. Wherever he could find someone to share the gospel with, he would.
At the beginning of 2014 I released a word that the Lord had given me for this year. It was a word about being BRAVE. Recently, I was in Los Angeles ministering at Expression 58, and I released a word to a young man about being a "Brave Lover of Jesus." As I released it over him, I felt the Lord say some things to me. I feel like more than ever the places the Lord is leading us to and the doors He is asking us to walk through are going to require a "brave yes" from us. As we say 'yes' to the things of God, we do so because we love Jesus and want to release His Kingdom and Spirit to those around us. Courage (bravery) is required in us to accomplish that. Like John Wesley, we can't care what people think or what they say against us. People's rejection can no longer hinder us.
Many of us have allowed rejection and failure to limit both our pursuit and our boldness when being true to what God has put in us. One thing we can certainly learn from John Wesley is no matter what comes our way, eventually there will be breakthrough and the coming to pass of God's promise over our lives. You and I know it rarely looks like what you expect it to look like. I am sure he didn't expect 10,000 people to show up in the middle of a field the night of June 2nd—BUT GOD. It can no longer be the natural circumstances that drive us. It must be the Spirit of God that moves us. In a world that is craving a genuine encounter with the Spirit of God there must be a YES in us that overrides any argument or any no.
I am sure we can all agree, John Wesley was a force to be reckoned with. No one could stop him. Rejection didn't faze him. Man's opinion didn't sway him. He was a man that knew He was called to preach God's Word and to bring it to wherever and whoever would listen. He would not stop no matter what. The YES within him was so real, so authentic and so sincere, that the cost would never be too great for his YES to be stifled. Let us be challenged today to say 'YES' to whatever God asks of us. Not matter how great or small, crazy or simple.
A verse I've been meditating on recently sums it up perfectly:
2 Cor. 1:20-22 / Message
Whatever God has promised gets stamped with the Yes of Jesus. In Him, this is what we preach and pray, the great Amen, God's Yes and our Yes together, gloriously evident. God affirms us, making us a sure thing in Christ, putting His Yes within us. By His Spirit He has stamped us with His eternal pledge—a sure beginning of what He is destined to complete.
As I walked into Starbucks the other day, on the door it read, "SAY YES TO WHAT'S NEXT." I smiled as I walked through the door and thought, "Yes, let's for the sake of the Kingdom."